Emergency roof repairs Exeter
Emergency roof repairs are a common yet essential part of keeping your home safe and secure. After all, the roof is one of your home's most important lines of defence against the elements. Unfortunately, due to inclement weather or general wear-and-tear, roofs can become worn or damaged over time. If left untreated, these issues can quickly turn into serious problems that require emergency repairs. When it comes to emergency roof repair jobs, flat roofing systems are often among the most common culprits in need of attention. Flat roofs are installed on structures where there is not a steep slope for water runoff.
Unfortunately, this makes them more vulnerable to damages from heavy rain and snowfall accumulation — two major catalysts for emergency repairs. As water pools on a flat surface and penetrates weak spots in the roof system, rot can set in and cause further structural damage to the building itself. Regular maintenance and inspection of flat roofs is essential to identifying potential problems before they become emergencies. Bailey and sons can help with regular inspections which will include checking around chimneys, skylights, vents and other objects that may be prone to leaks during severe weather conditions. Additionally, we ensure any exposed seams have been sealed correctly with an appropriate sealant (usually asphalt) as these areas are particularly vulnerable to water seeping through during extreme weather events.
Overall, emergency roof repairs can be costly endeavours that should always be avoided if possible by taking preventative measures such as regular maintenance and inspections. However, when they do arise due to unexpected circumstances beyond your control, having a trusted contractor like Bailey and sons Roofing on hand who specializes in flat roofing systems will help ensure any necessary repairs are done quickly and correctly while minimizing any disruption to your home life or business operations.
If your roof has been damaged due to bad weather or long-term neglect, Bailey and Sons roofing are specialists in emergency roof repairs in Exeter, we cover storm damage, leaks and broken tiles – get them fixed today for a reasonable price with Bailey and Sons roofing.
Leadwork repair Exeter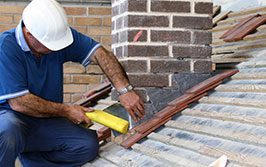 High quality leadwork provides an extra layer of protection for your home. Available in a variety of styles and colours to fit the aesthetic of your home, Bailey and Sons can professionally install this durable protection at an affordable price on all roofing in Exeter.
Need emergency roof repairs? Call Bailey & Sons Roofing today
07703 730 557
areas we cover
Exeter, Tiverton, Crediton, Honiton, Okehampton, Exmouth, Newton Abbot, Torquay and surrounding areas.